⭐️⭐️⭐️⭐️⭐️ "...phenomenal skincare product! Don't ever stop making it!"
Hydrate Dry Skin and Brighten Tired Eyes With This Moisturizer + Eye Serum Bundle



Diminish wrinkles and fine lines

Hydrate and nourish dry, flaky skin

Even skin tone and improve complexion

Get rid of "puffy eyes" and brighten dark circles

Achieve dewy, glowy soft skin - and keep glownig - all day long
Vegan. Cruelty-free. Made in Canada 🇨🇦

One-Time Payment. Price in Canadian Dollars. Ships FREE in Canada. You are protected by our 90-Day Unconditional Satisfaction Guarantee.
3 Steps to Younger, Healthier Skin - Naturally

Apply the "Morning Glory" peptide eye serum by gently "tapping" it into your skin around the gentle eye area.

Wait for 3 to 5 minutes, then apply the "Enchanted Herbs" moisturizer to lock in the moisture and active ingredients in your serum.
NATURAL EYE SERUM WITH PEPTIDES
"Morning Glory" Eye Serum
This delicate, oil-free eye serum instantly hydrates and creates a plumping and lifting effect.
Reduce appearance of dark circles and "puffy eyes"!
Nourish and sooth the delicate eye area as water-binding nutrients provide lasting hydration for a lifted, firmer appearance and renewed vitality.
...It also smells amazing!
Chrysin
Chrysin promotes the elimination of blood originating pigments from under the eyes. These blood pigments are responsible for the dark circle colors. Naturally found in in honey, propolis and passion flower.
Cucumber Extract
Helps in diminishing the appearance of puffiness around the eyes. The fruit has can lighten and brighten your look.
Palmitoyl Oligopeptide
One of many peptides which have recently been discovered to have a positive effect on skin health.
Aloe Leaf Juice
Excellent moisturizer, contains vitamin B complex, folic acid, vitamin C, E, amino acids and carotene.
Palmitoyl Tetrapeptide-7
Boosts the growth of the connective tissues and naturally increasing the production of collagen in the skin; when the production of collagen is increased, the skin can heal and rejuvenate itself.
N-Hydroxysuccinimide
Reduces the appearance of fine lines, wrinkles and dark circles around the eyes, improves skin tone, and texture.
Full ingredients list:
Water, Aloe Leaf Juice, Vegetable Glycerin, Cucumber Fruit Extract, Chrysin, Peptide Complex (Palmitoyl Oligopeptide, N-Hydroxysuccinimide, Palmitoyl Tetrapeptide-7, Palmitoyl Pentapeptide-3), Steareth-20, Polysorbate- 20, Carbomer, Leuconostoc/Radish Root Ferment Filtrate, Frankincense Essential Oil, Lavender Essential Oil, Neroli Essential Oil.
Apply to clean skin AM & PM. Glide from the under eye toward the outer corner and across the brow bone.
SILKY, LIGHT ANTI-AGING CREAM WITH HYALURONIC ACID
"Enchanted Herbs" Moisturizer
Rich, ultra-hydrating moisturizer will leave your skin with a silky smooth finish. Best for dry, dull or mature skin.
This satin-soft cream delivers essential hydration and soaks in beautifully to smooth wrinkles, fine lines and tone your skin.
It's light. It's non-greasy. No artificial fragrances, toxic ingredients. Loved by thousands of happy customers.
Ingredients: Mango and Shea Butters
Shea butter:
Penetrates deeply into the epidermis and nourishes and moisturizes your skin.

Leaves a smooth, satin texture to the skin.
Mango Seed Butter:
Adds softness to skin while moisturizing.

Helps in reducing fine lines and wrinkles.

Promotes synthesis of collagen in the skin, leaving skin soft and hydrated.
Ingredient: Hyaluronic Acid
Well known for its skin benefits, especially alleviating dry skin, reducing the appearance of fine lines and wrinkles and speeding up wound healing.

Acts as a powerful humectant.

Holds in moisture to plump out fine lines and wrinkles, giving




the skin a smooth translucent texture.
Ingredient: Aloe Vera Juice
Promotes moist plump skin and helps with sun-exposure damage through its powerful healing activity at the surface level of the skin.
Water, Aloe Leaf Juice, Hyaluronic Acid, Shea Butter, Mango Butter, Olive Oil, Sweet Almond, Avocado Oil, Sunflower Oil, Grape Seed Oil, Caprylic/Capric Triglyceride, Glycerin, Stearic Acid, Glyceryl Stearate, Cetyl Alcohol, Vitamin E, Cyclopentasiloxane, Leuconostoc/Radish Root Ferment Filtrate, Juniper Essential Oil, Lavender Essential Oil, Rose Geranium Essential Oil.
Beautiful Skin. Naturally.
We only sell what we are truly proud of:
Vegan

Cruelty-free

Natural,

Gentle and Safe

Made and produced in Canada
None of:
Fillers, Parabens, Sulfates, Phtalates, Silicones, GMO's, artificial fragrances or toxins of any kind.
Our Guarantee: "100% thrilled or your money back".
Feel safe shopping with us. You are protected by our unconditional 90-day no-hassle return policy: either you are thrilled with the results - or you get a courteous refund.
Take up to 90 days to decide. (Although most women experience visible results within the first month and become our raving fans).
What Our Fans Have to Say:
"Thank you so much for creating this phenomenal skincare product! Don't ever stop making it"
"First and foremost, I write reviews very rarely and only when the product really works as stated in your ad. I have received all of my orders and have begun the regimen right away, June 26th.
2 days in and I'm already totally impressed with the product. So excited that the dry patch I've had due to the other skincare product I was previously using and never went away, actually healed with your products. I was elated and overjoyed beyond belief. I loved the smell, how it made my skin glow and most of all, I noticed the wrinkles and lines were slowly diminishing.
FINALLY, a skincare product that really works for me after many endevours of other products! Woohooo!!!
2.5 weeks have gone by and your products keep on working.
I have maintained the glow and improved the texture of skin and wrinkles each day!
I've had compliments about my face looking younger and skin glowing.
For 61 years old, that was so nice to hear.
Thank you so much for creating this phenomenal skincare product! Don't ever stop making it. I have recommended your products to many friends who have complimented on the improvement of my face and will continue to do so to whoever wants to know. Warmest regards, Liz"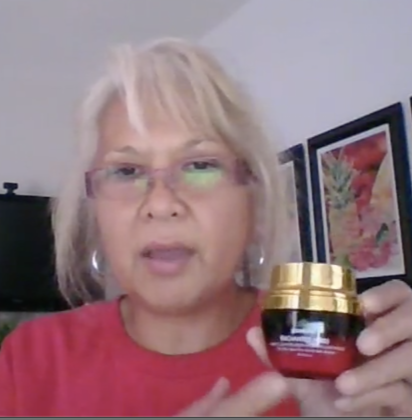 A Few More Words From Our Thrilled Customers
"I am enjoying my skin elixir, moisturizer and anti wrinkle eye serum very much.
My skin is softer and more radiant than ever before. I will be buying more when it comes time. I love the products!"
Linda M.
"...You cannot imagine how happy I am with the Enchanted Herbs Radiant Glow Moisturizer. From the very first touch, the moisturizer feels so nourishing and hydrating on my dry, sensitive and aging skin. I feel the effect immediately - my skin calms down... I can tell for sure it looks much better - red spots eliminated, the color is superb and I feel like it's truly radiant and glowing! I love everything about this cream - the delicate, natural smell, the texture and the deep hydration. I love how my skin smiles every time I apply it. Highly recommending this product to anyone who is looking for a natural moisturizer! Sending all the blessings to Gaia Secrets!"
Sniazhana L.
"I'm obsessed with this beautiful skin care line! For the last month, my skin has glowed! I'm not wearing as much makeup, which is great for the skin.
I just ordered my next set of products and also an extra Camilla Bliss Gentle Facial Cleaner for my body wash.
I hope in the future your company will produce even more amazing products ❤️🌺❤️"
Ezzie R.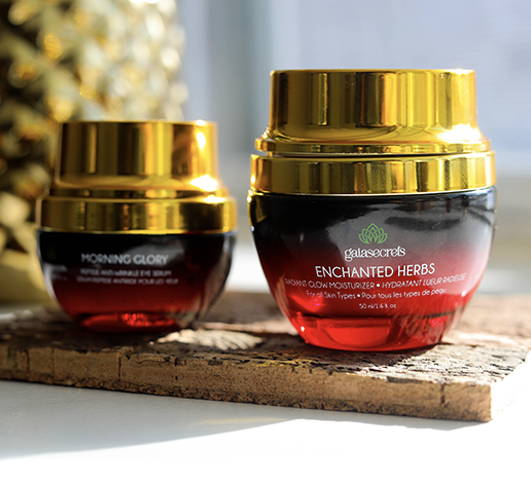 One-Time Payment. Price in Canadian Dollars. Ships FREE in Canada. You are protected by our 90-Day Unconditional Satisfaction Guarantee.